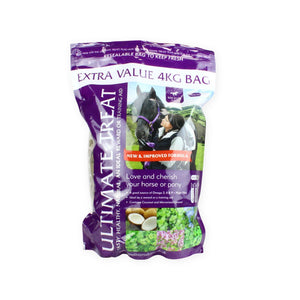 These tasty, healthy treats are made from 100% natural ingredients and include coconut and flaxseed which provide a good source of vital Omega 3 6 and 9. Perfect as a reward or training aid, this big bag will go a long way and provides a complimentary, delicious treat that can be fed in addition to our equine Ultimate Oil (not as a replacement feed for Ultimate Oil).  
GM materials are not used in these Treats. 
This product offers fantastic value for money - it comes in a re-sealable 4kg bag for longer lasting freshness. 
Ingredients include:  Micronized linseed meal, coconut oil, and mixed herbs (Oregano, Sage, garlic, Mint, Parsley, Marjoram)
Size:  4kg bags.