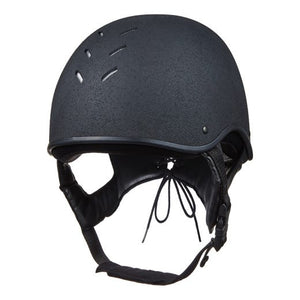 CHARLES OWEN JS1 JOCKEY SKULL
RIDING HAT

The JS1 pro from Charles Owen represents one of the best value Jockey Skull helmets on the market at the moment. The JS1 Pro is a deep fitting skull that has a shape which is suits the majority of heads, coming in standard and also a round fit in a 56cm – 58cm. The outer shell on Charles Owen's JS1 Pro is made from an impact-resistant ABS plastic
outer meaning the hat is one of the lightest in Charles Owens range.

The hat is independently certified to VG1 and has the specification of PAS015:2011 (the most recent PAS standard) and also ASTM (up to a size 61cm) meaning that for the majority of the range this a very well specified hat as it has the triple standard usually reserved for hats at a more premium price point. The tri standard on the JS1 Pro and the fact it is a skull, (therefore has no forward protrusion) means that it is suitable for any discipline, including cross country.

The JS1 Pro from Charles Owen features a very comfortable partial faux leather harness with lace adjustment at the rear, as well as an adjustable chin strap that has a comfort suede cover and is secured using Charles Owen's tried and tested clasp design. The whole harness is reinforced with a nylon overlay.

In terms of ventilation, the JS1 Pro feature an airflow lining, allowing air circulation to help regulate the temperature of your head, the airflow of the lining is enhanced with the 10 ventilation slots the JS1 Pro features.

Charles Owens JS1 Pro also features an unusual shell break pattern for Charles Owen, meaning the JS1 Pro is a fantastic choice for people who normally find they fall between sizes 55cm and 56cm or 59cm – 60cm with the smaller being to small and perching and the larger being too big, the JS1 Pro from Charles Owen shell breaks differ as they run 55cm – 58cm
and 59cm – 62cm (correct as of March 2020) as opposed to Charles Owen's standard 56cm – 59cm and 60cm – 61cm.

The JS1 Pro from Charles Owen is entirely made at their factory in Wrexham by Charles Owen themselves, the same meticulous standards that are applied to all Charles Owen helmets, Charles Owen always manufacture all of their own helmets in Wrexham from start to finish, meaning that the JS1 Pro truly is Made in Britain.