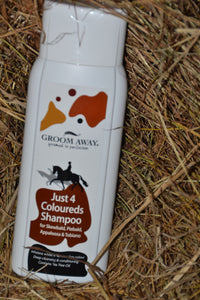 Groom Away Just 4 Coloureds Shampoo is specifically for skewbalds, piebalds, appaloosas and tobianos. Deep cleanses white areas for an ultra white finish and enriches coloured areas. Gives a shiny defined result, emphasising colour contrast, showing your coloured horse or pony in all their glory.Easily lifts out dirt and grease without stripping natural essential coat oils, leaving the coat silky soft and shiny. Has the added benefits of tea tree oil.
Suitable for both frequent use and preparation for competition turn out. 
This shampoo is concentrated, a little goes a long way.