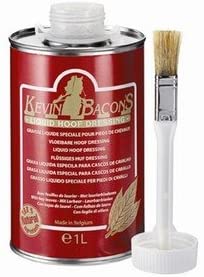 Kevin Bacon's Liquid Hoof Dressing is a new version of the popular Original Hoof Dressing but really easy to apply by brush (which is included). Still with the same 100% natural formulation of animal fats and balm of fresh Laurel Leaves, that have been macerated to release their active substances, and manufactured with tradional methods. 

This hoof dressing is ideal for the inconsistent British weather, protecting hooves from saturation in wet conditions and supplying moisture in dry conditions. It will also keep feet supple and elastic and helps prevent splits and cracks. Its barrier protection helps keep the hoof free of bacteria which in turn promotes healthy growth. 

HOOF DRESSING does not merely give the foot a pretty shine. It penetrates the horn to nourish the hoof deep down and promote growth. Widely recommended by farriers and used in many professional yards. 
Instructions for use - Normal use: Apply the hoof dressing to the hoof walls and soles three to four times a week - More intensive use : Apply daily for one week, as follows : 1. Hose down the feet. 2. Dry off. 3. Coat with hoof dressing.
COLLECTION ONLY