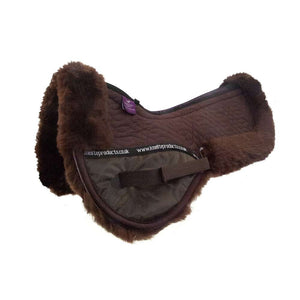 *SPINE FREE*
The clear spine, which is swept up at the wither relieves pressure on your horse's back, allows air to flow through and ensures an optimum fit.
Our high quality half pads are made from 100% Merino lambswool (which is tanalised using no harmful chemicals) and our signature 100% cotton quilted fabric.  The sheepskin encourages muscle relaxation and improved blood circulation, whilst maintaining a soft comfortable contact with the horse.  Our pads are fully breathable and the merino fibres help wick away and hold 40 times their own weight in moisture, keeping the horse cool during the summer and warm in the winter.
This product can be used in conjunction with a saddle cloth.