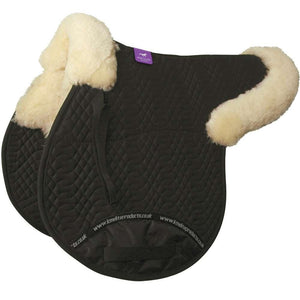 The clear spine allows movement, prevents rubbing, allows airflow, relives pressure and gives and optimum fit.  
The numnah shape fits nicely behind the GP Saddle, giving a smart finish for either day-to-day schooling, hunting or competition wear. 


KM Elite's high calibre saddle pads are made with 100% Merino Lambswool. Sheepskin is known to improve blood circulation therefore promote muscle relaxation. It is fully breathable helping wick away sweat, whilst maintaining a soft comfortable contact with the horse. Keeping the horse cool during the summer and warm in the winter.