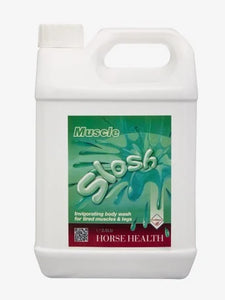 Ideal after competition or strenuous exercise
Contains essential oils
Stimulates blood flow
Aids relief of stiffness and soreness
Leaves coat with a high shine
Non-rinse formula
FEI legal
LeMieux Muscle Slosh is an invigorating body wash that stimulates tired muscles and aids in the relief of stiffness, soreness and inflammation. Ideal for use after competitions or strenuous exercise. Contains essential oils of cedar wood, rosemary and thyme with green soap concentrate to leave a high shine on the coat. This LeMieux body wash stimulates blood flow to the whole body, including the lower limbs and can be used neat or partially diluted. The low-lather, non-rinse formula has a lovely smell and contains no camphor to ensure it's FEI legal.