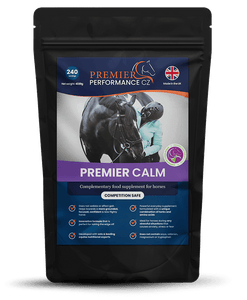 Premier Calm is our New Powerful and Effective Calming Powder without Soya.
Premier Calm is a powerful everyday supplement. Help your horse to stay calm, confident and focused without effecting gait or performance.
The Active ingredient L-Tyrosine is a natural mood stabiliser, which can help towards a more focused, confident horse and less anxious horse.
L- Arginine is the active ingredient used by the body to change into Nitric Oxide (NO). Nitric Oxide is a powerful neurotransmitter. As Nitric Oxide levels becomes greater it can help to deliver the amino acids quicker.
Premier Calm is ideal for horses during stressful situations such as breaking, training, loading, travelling, clipping, racing, outings and competitions or any situation that causes worries, stress or fear.
It is specially designed for those who prefer to administer their calming supplements as a powder. Premier Calm has all the same benefits as Calming Cookies® but a slightly stronger formula with effects still being seen after 8 hours for an average horse. Every horse is different and will metabolise at different rates as well as having pre-existing levels of non-essential amino acids in the body.
Premier Calm has a carefully researched blend to help support a nervous or worried horse to focus and feel confident without affecting their ability to compete. Full range of natural vitamins, minerals and amino acids for general health and natural well-being of the digestive system. Contains no Soya.
Premier Calm helps with calming, focus and confidence. We have formulated the Premier Calm with ingredients to help settle and calm the stomach.
Chia Seeds are full of Omega 3's, easy to digest, calming, helps towards healthy skin, coat, mane and hooves. Supports muscle build up.
Premier Calm and Calming Cookies® complement each other and can be fed together if extra support is required.
Contains no fillers, binders or any known prohibited substances as defined by the FEI.