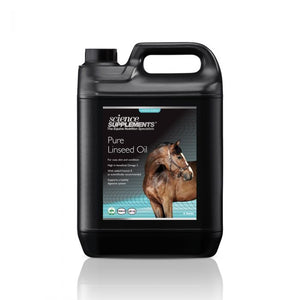 Improves coat, skin & condition
High in beneficial omega 3
Aids weight gain
With added Vitamin E as scientifically recommended
5 litres gives approximately 4 weeks

PURE LINSEED OIL is a premium product produced by cold pressing whole linseed to produce a pure linseed oil. It is the only Linssed Oil available that has the correct amount of Vitamin E added to achieve 1 unit of Vitamin E per ml of oil, as recommended by equine nutritionists. It also contains rosemary extract which acts as a natural antioxidant to preserve the oil and maintain palatability.

High in beneficial omega 3 fatty acids, it supports general health and is ideal for a healthy coat, skin and for gaining condition in a safe way.

This product is a complementary feedstuff for horses, ponies and donkeys. It can be added to a single feed or split between two or more feeds as directed.