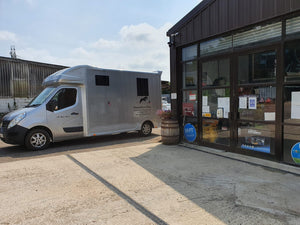 3.5 tonne, stallion partition, automatic. Self drive.
For a multi-day booking, please add multiple consecutive 8 hour bookings into your shopping cart before proceeding to checkout. (choose 8 hour duration, select a date, add to cart, then click select a date again and add the next day, and so on until you have selected all of the dates that you want).

We require a £500 deposit which can be paid on the morning of your booking or any time before. This will be returned after your booking subject to our terms and conditions.
Please read our terms and conditions before booking.

You will receive a confirmation email at the time of booking, you will then receive an email from Tack-Exchange stating the paperwork and checks required before hire can commence. If you do not receive this email please contact Tack-Exchange ASAP as hire CANNOT take place unless the relevant paperwork is in place
If you have any trouble placing your booking online, or if you have any questions, please call us on 01628776910